Our District APP, available on the APP store & Google play, has gotten a major update. We encourage all parents (& students who are allowed) to download our PalmyraProud app >then make sure that you sign up for push notifications so you get the info first! #PalmyraProud


Palmyra School District has job openings to be filled! JUST ADDED On our HOMEPAGE>RED BUTTON>EMPLOYMENT to see jobs including: New Posting for Cafeteria Aides & After-School Counselors. Updated regularly-check often- Applications for Substitutes are always being taken.

Today we salute the American Spirit! In an unusually challenging year, this spirit prevailed! Happy Independence Day, enjoy your families & the time to recharge your spirit! #PalmyraProud #IndependenceDay2021 #LandoftheFreeHomeoftheBrave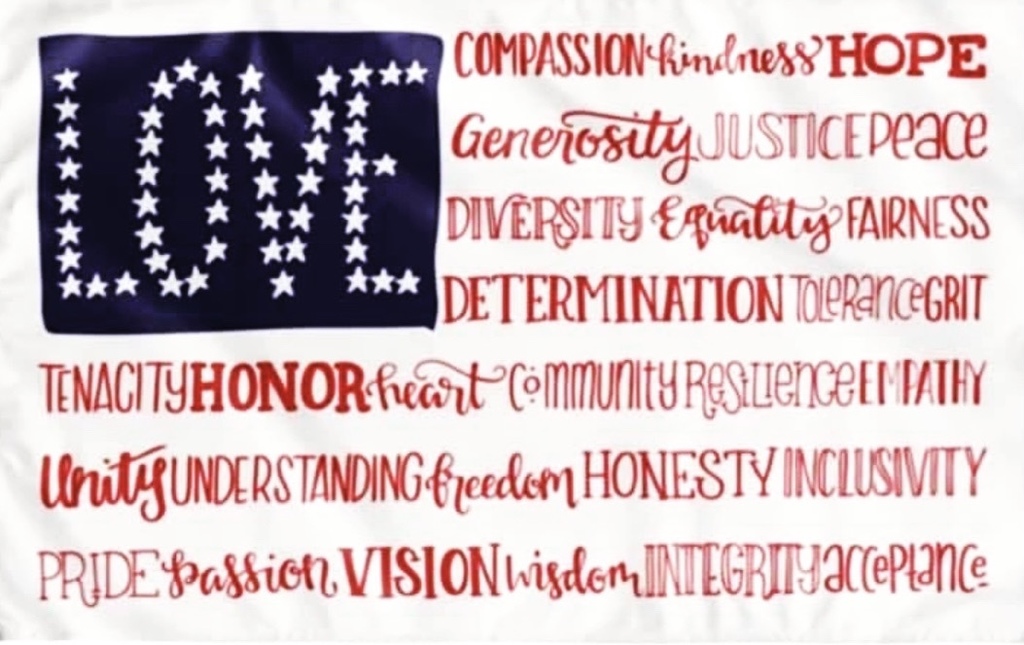 NOTE NEW DATE: Join us VIRTUALLY on Tuesday, June 29th at 6:30pm to learn more about our NEW Early College High School Career Pathways Program. This Program will provide students with a head start on college studies for their future career while they are still here at PHS!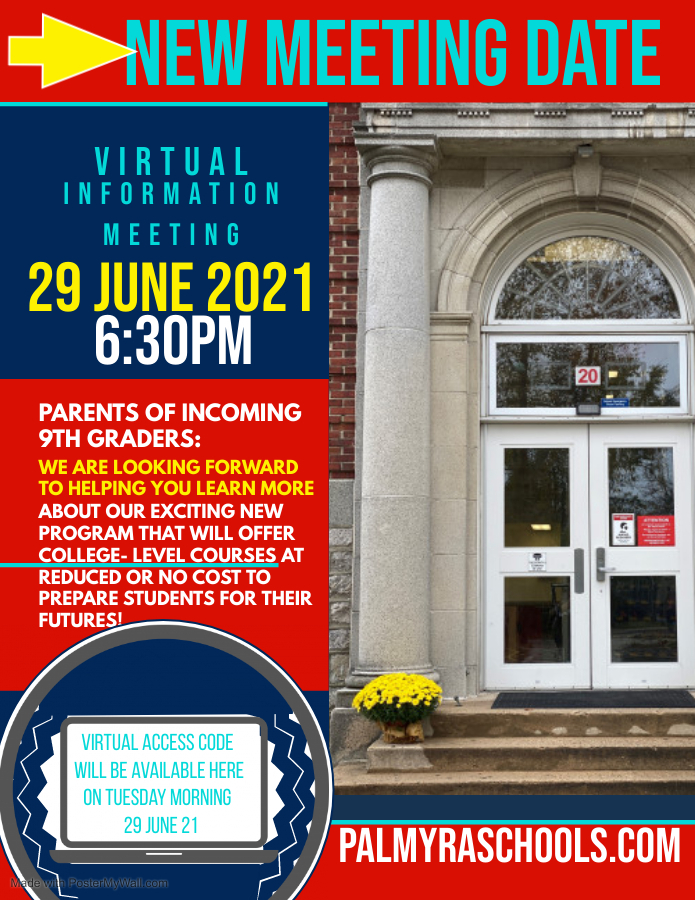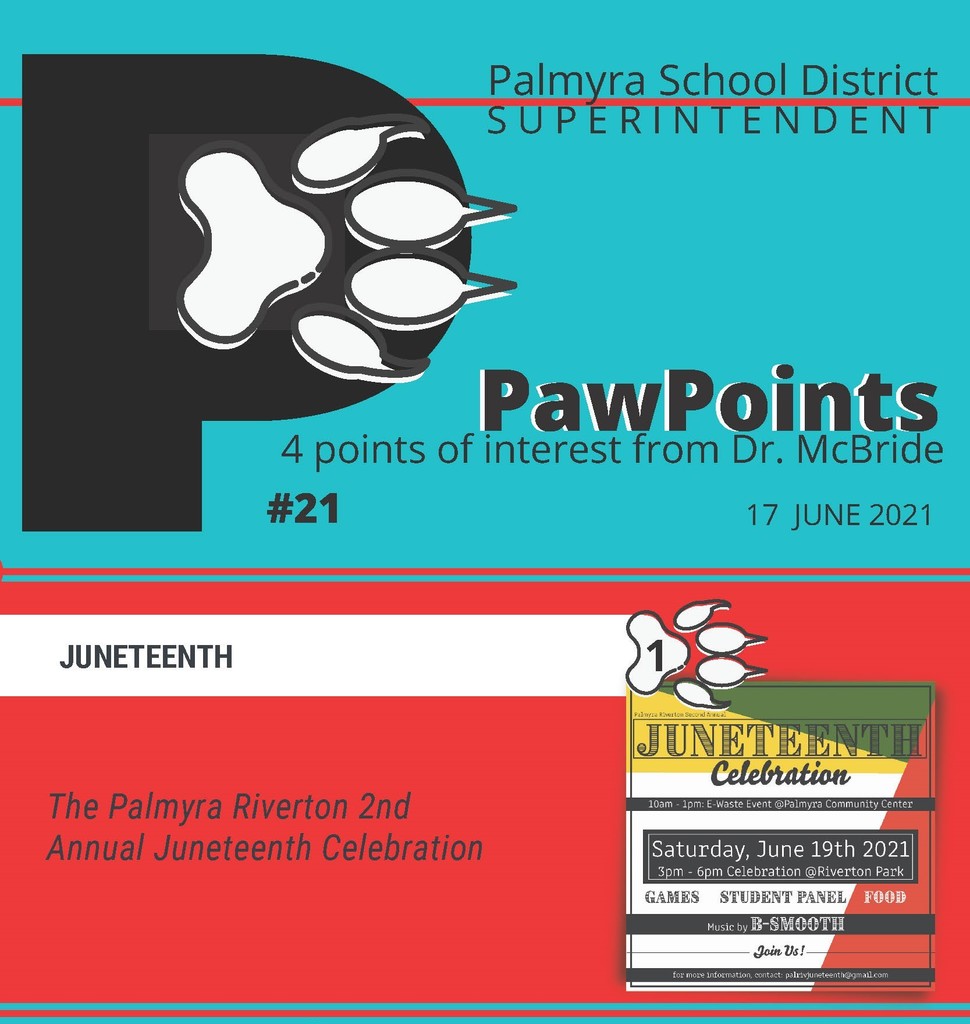 PLEASE TAKE NOTE of your child's Chromebook & More RETURN DAY! Charles Street is 6/16- teachers gave out time & door#. Virtual Middle School & High School Students & 2021 Seniors is 6/16 & 6/17 from 1-3 at Door 14 by the Cafeteria picnic tables!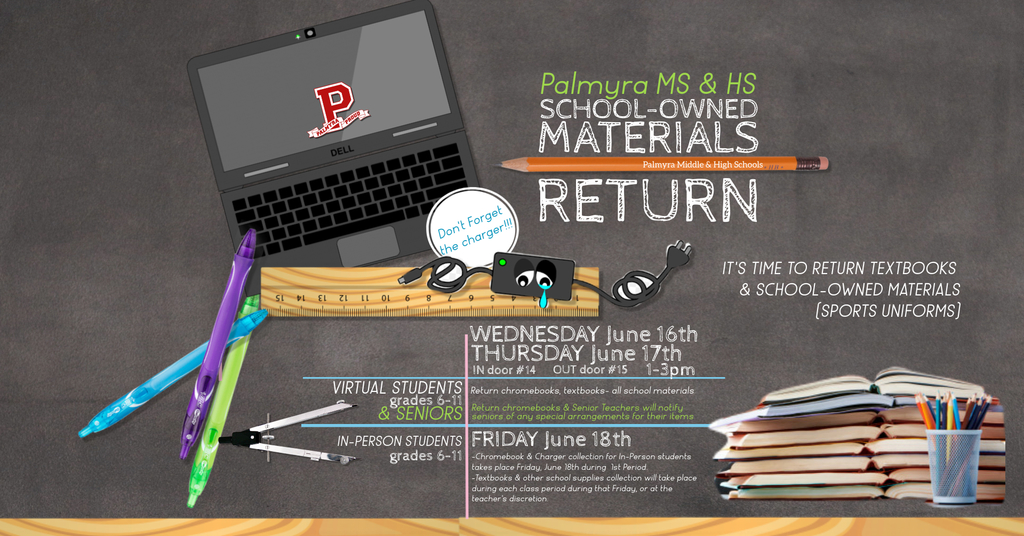 Due to unforeseen circumstances, tonight's virtual meeting for the Early College High School Program is canceled. Please look for upcoming announcements regarding a postponement date. Thank you for your enthusiasm, we are looking forward to sharing the details.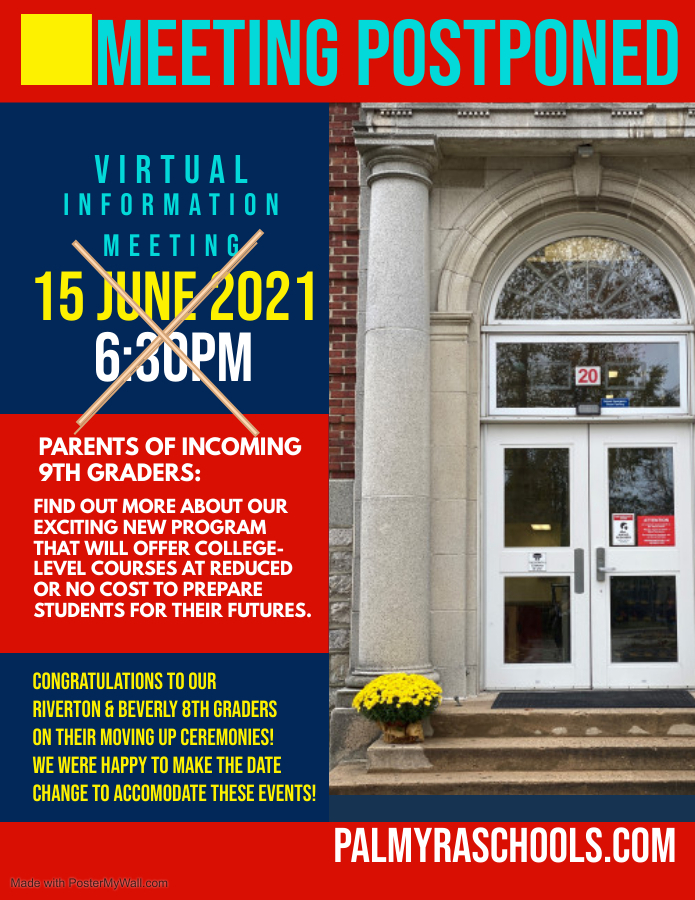 The Palmyra/Riverton Communities are planning their 2nd Annual Juneteenth Celebration- Saturday, June 19th at Riverton Park from 3-6pm. The celebration will be filled with education, food, music & fun to commemorate Juneteenth -the end of slavery.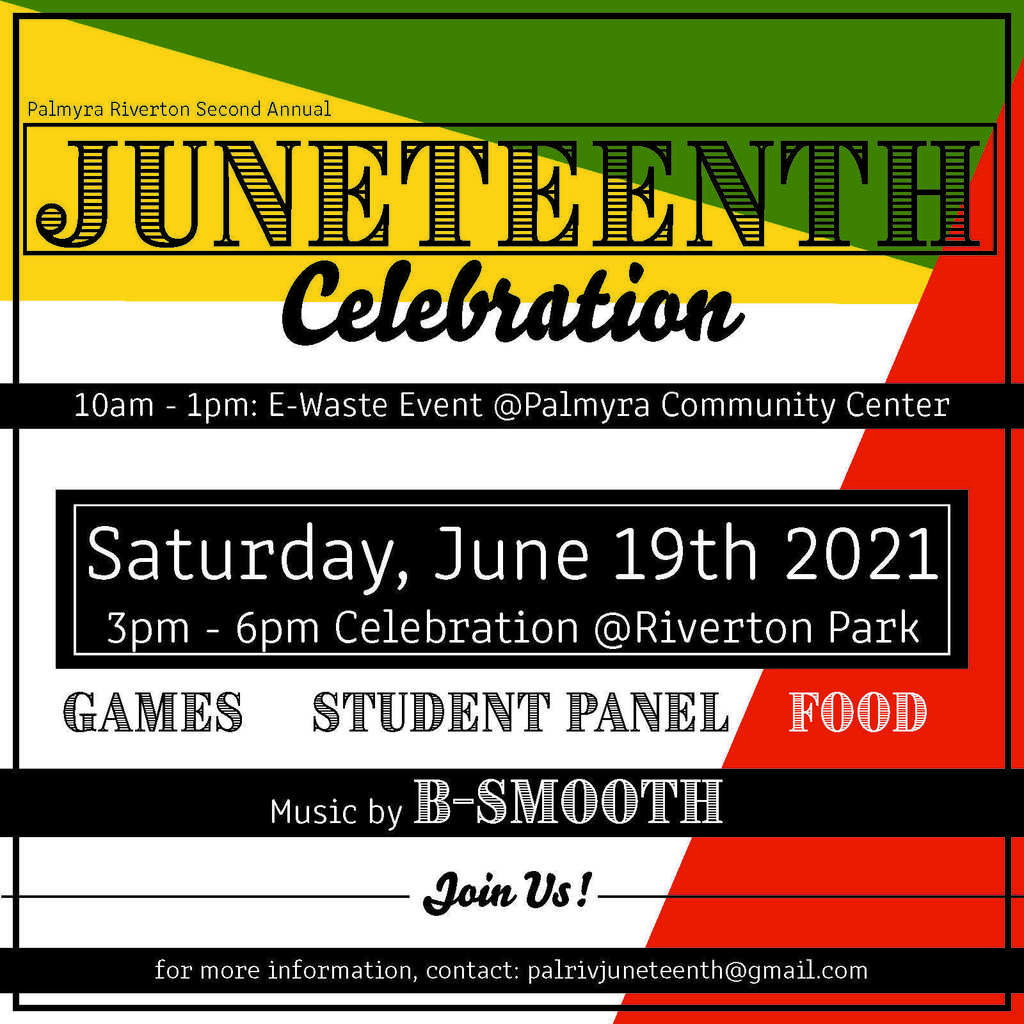 Palmyra Middle & High School is collecting school-owned materials including Chromebooks, chargers, textbooks & more next week! ALL Virtual Students & Seniors on Wed & Thurs from 1-3pm at Caf Doors. In-person students grades 6-11 return their items during class on June 18th.

The Burlington County Health Dept has shared that the JUNE 17th Drive-UP Food Distro in Westampton will also include the opportunity to get the J&J COVID-19 Vaccine. The Food Bank of South Jersey has made amazing efforts to feed families during the COVID pandemic & beyond.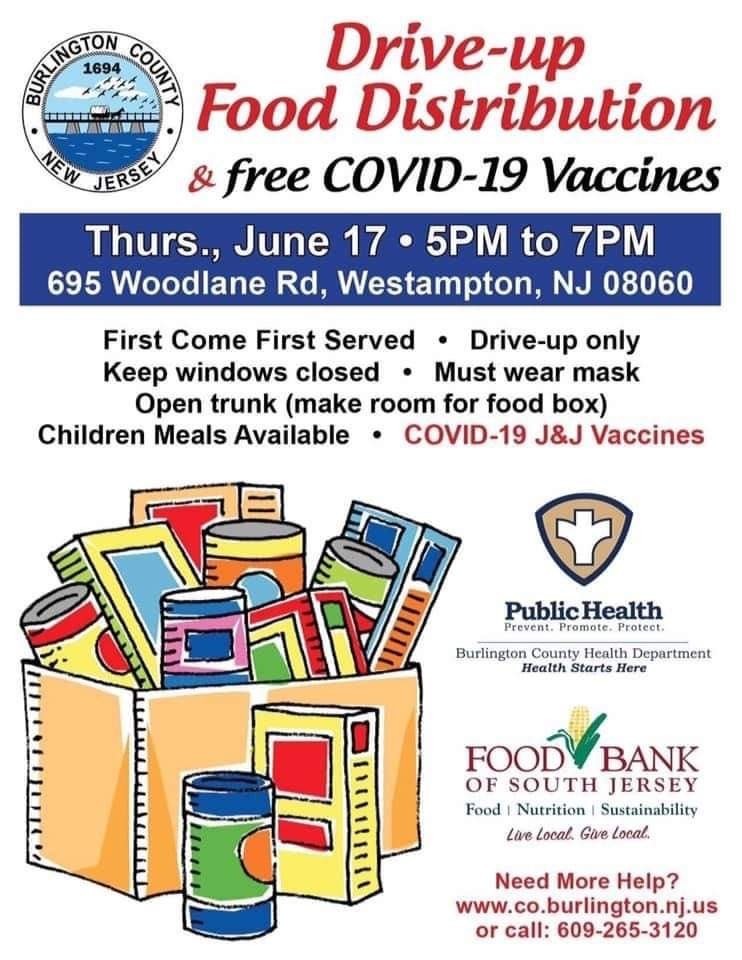 Psst: would you like to learn more about your child earning college credit while still in high school? This new program would be at no cost/low cost to the families while students earn college credit here at PHS! SAVE THE DATE: June 14th at 6:30pm for a virtual meeting.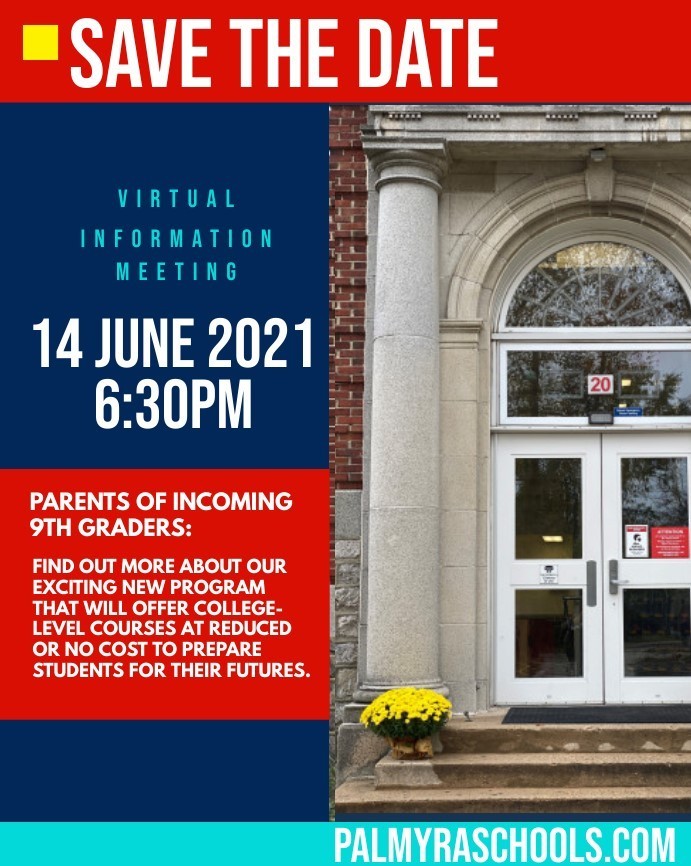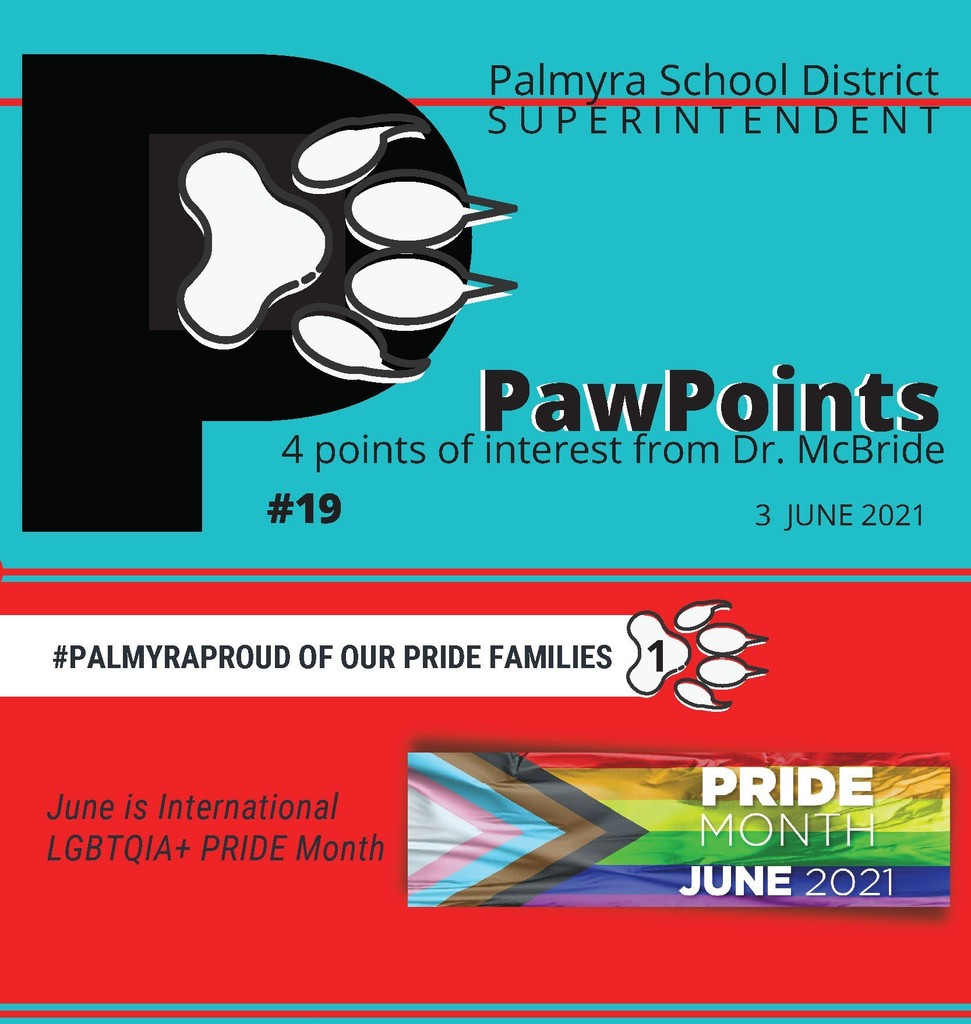 The June Monthly Meeting of the Palmyra Board of Education will be June 16th-In-Person at the Delaware Avenue Building-301 Delaware Avenue- 7pm. Meeting will be broadcast via Facebook & will appear on the Board of Education Live Meetings page of the website. #PalmyraProud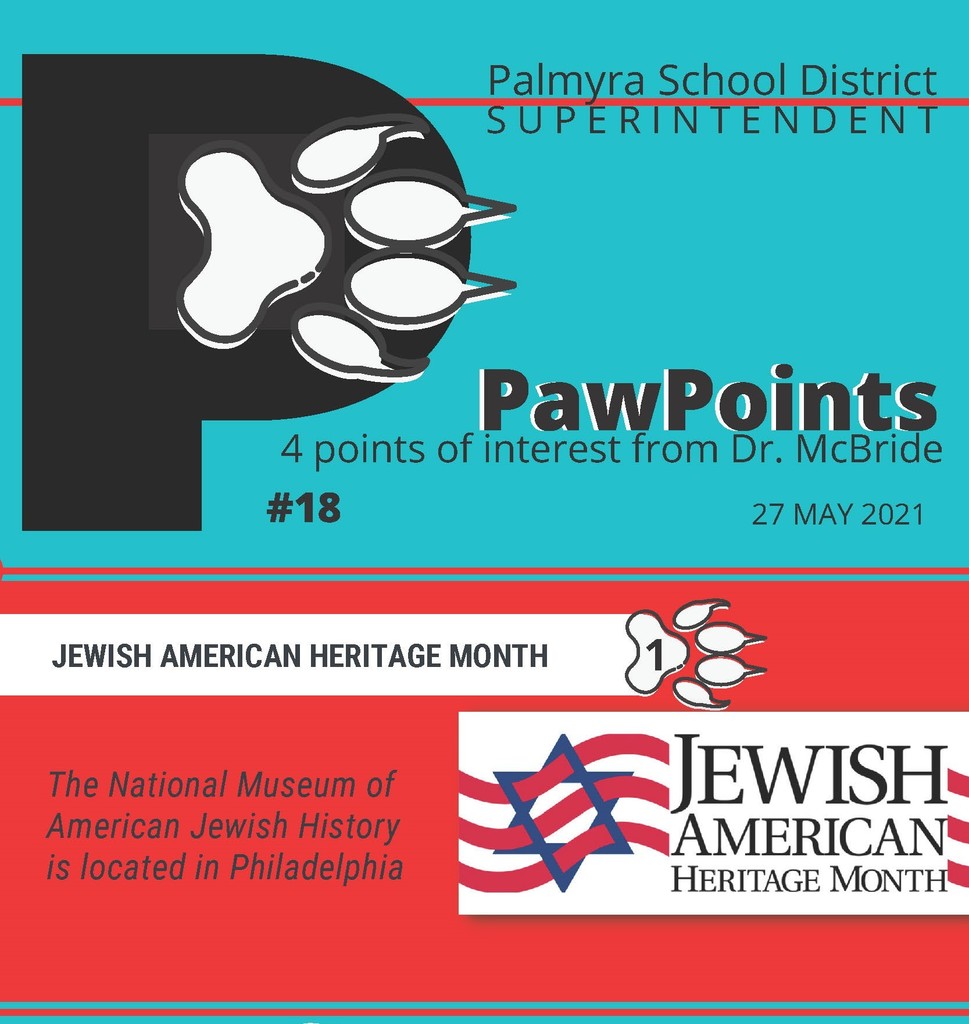 DUE to last night's major storm damage: DISTRICT PHONE SERVICE IS DOWN. Email & the Website are still available if you need to reach out. We are working to rectify this outage & appreciate your patience until then.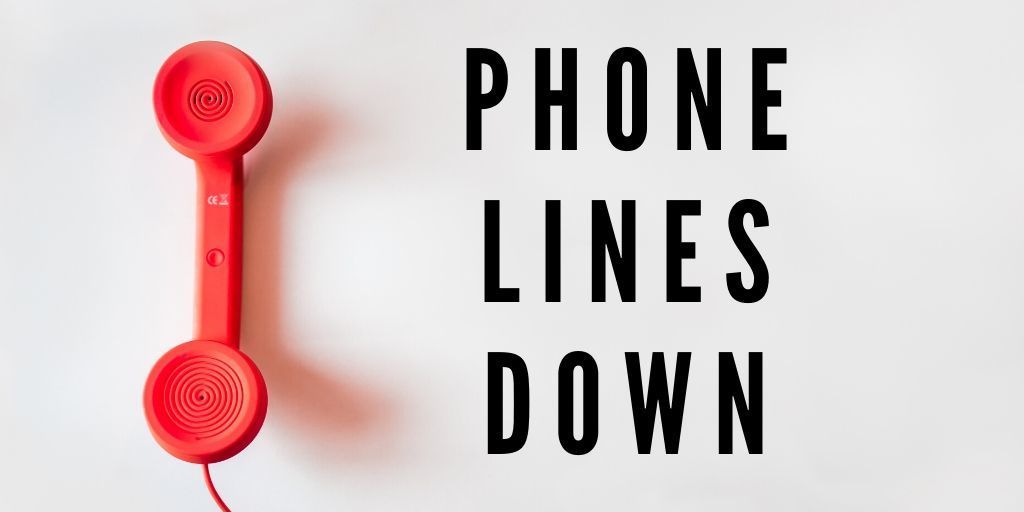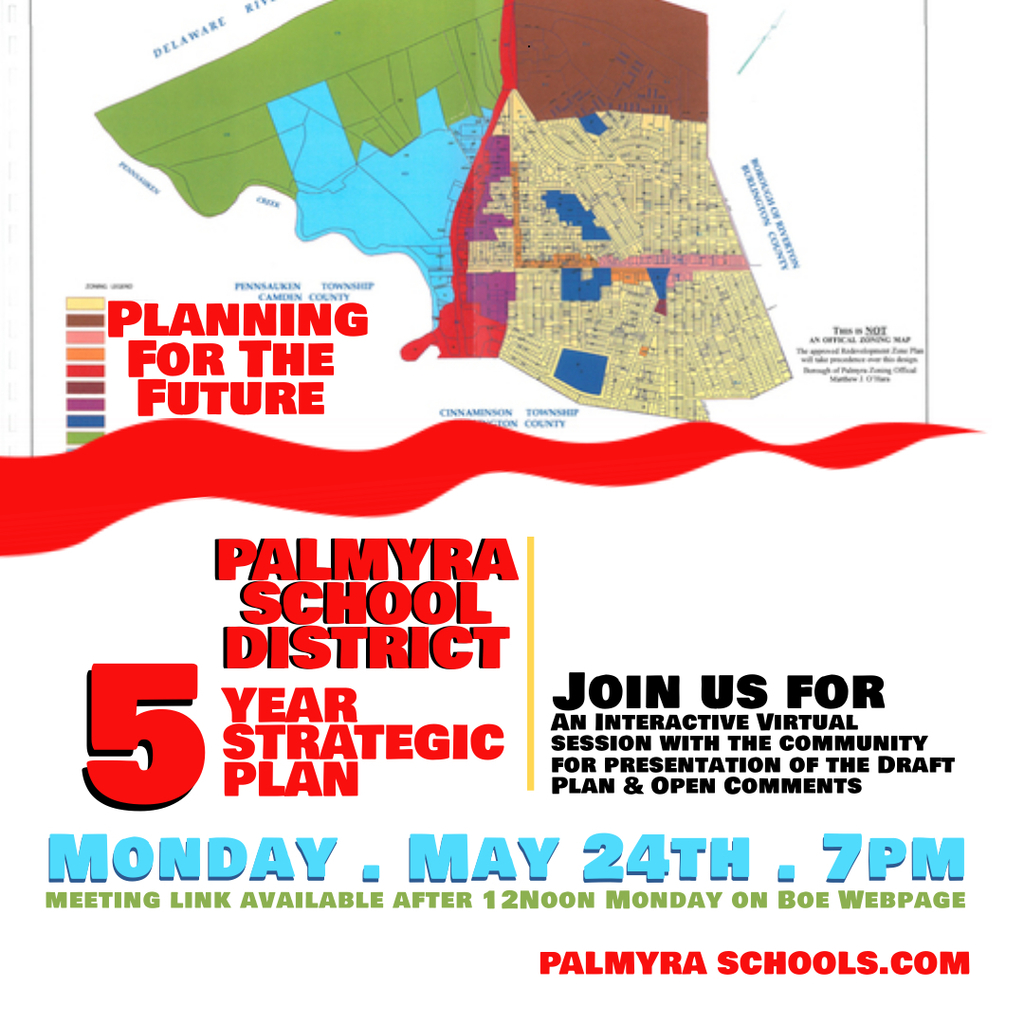 Planning for the Future- Join us for an interactive VIRTUAL session with our Palmyra Community for the presentation of the Draft of the 5Year Strategic Plan. There will be an opportunity for dialogue & questions. Monday 5/24 @7pm. Link will be on BOE page after noon on Monday.

REMINDER: TONIGHT 7:30 ONLINE: Presented by PHSFEE & Ms. Sabo, A panel of recent grads share their experiences & information on how PHS prepared them for success in the college careers. #PalmyraProud of these grads! Please see the flyer for the xtel virtual link: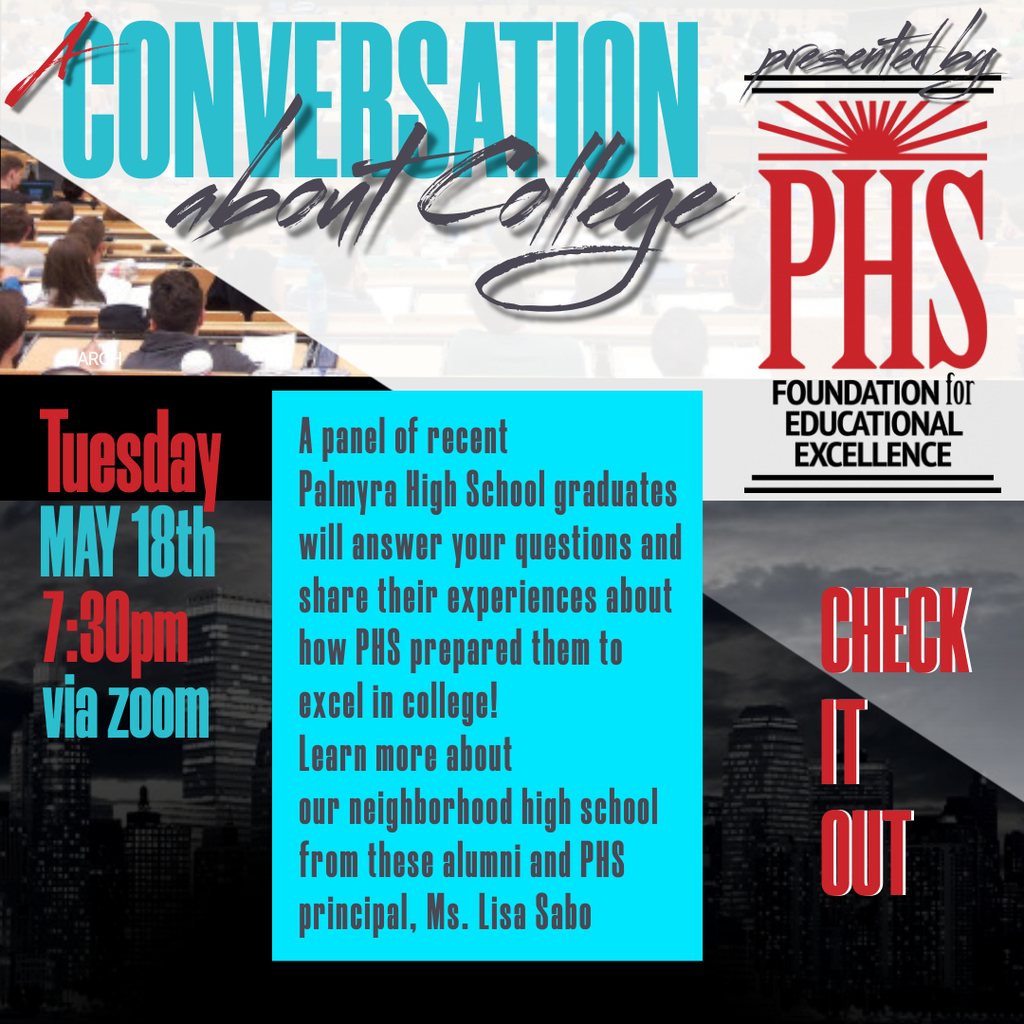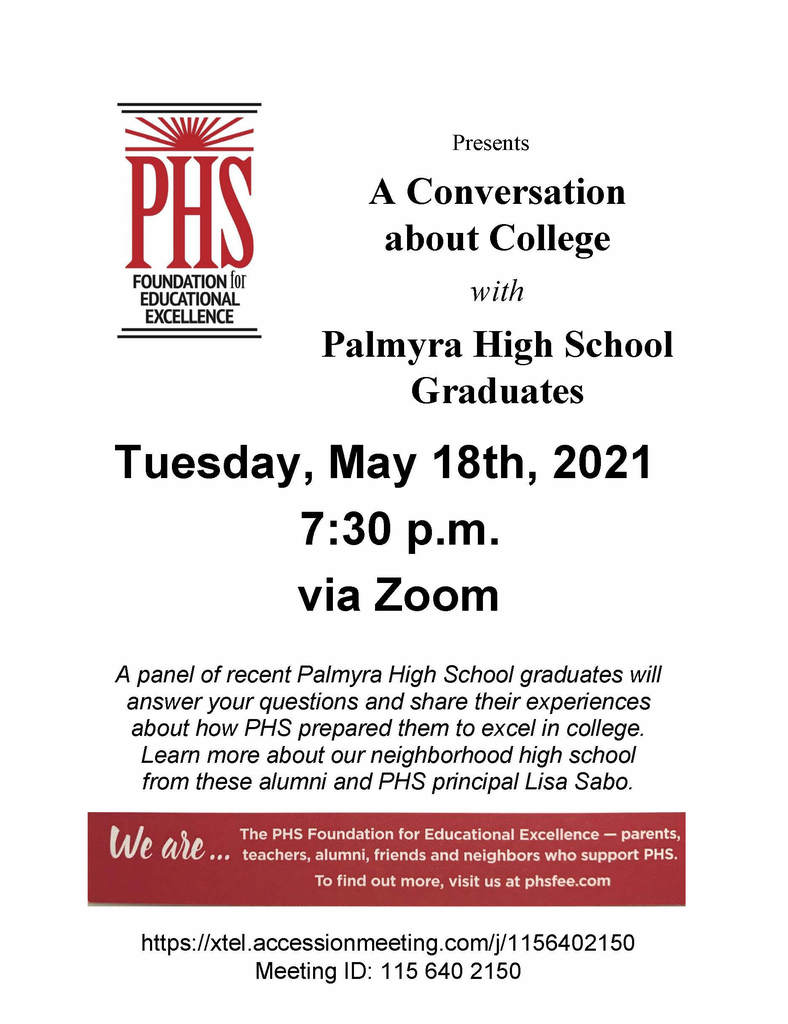 Spotted on Saturday! Kid-fueled event to raise money for their causes! Riverton Treasure Day Part 2- Lippincott Avenue is HoPpinG! Stop down for some treasures & treats! #PalmyraProud of these self-starters!