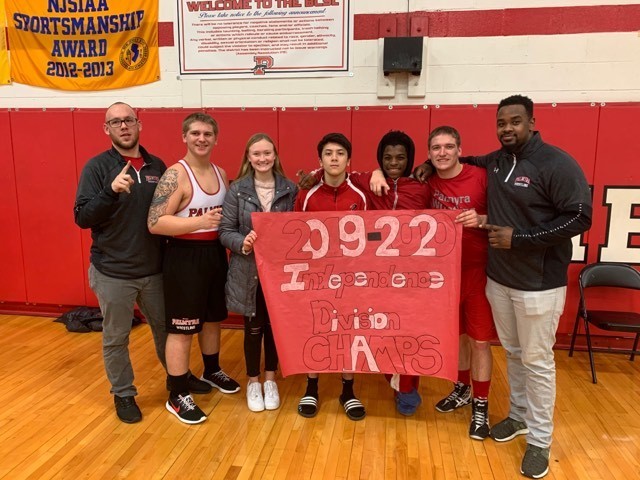 Weekly Athletic Report
Palmyra Schools
Monday, March 02, 2020
Good Afternoon Palmyra School District! FROM THE DESK OF ATHLETIC DIRECTOR, Mike Papenberg:
Our student-athletes were hard at work last week as the winter season winds down. Here is a look at how they performed:
The Girls Basketball team continued their HISTORIC season and unbeaten streak. The girls went 3-0 against group 2 and group 3 teams last week to improve their winning streak to 24 games. On Tuesday the Lady Panthers defeated Delran High School, 37-31. Olivia Falicki led the Panthers in scoring with 11 points. Liz Shover added 10 points and 15 rebounds for the Panthers. On Thursday, the girls defeated Deptford High School, 43-30. Ashanti Taylor had a double-double, scoring 13 points and grabbing 13 rebounds. On Friday, the girls concluded their regular season with a 53-35 victory over Seneca High School. Ashanti Taylor and Julianna Mackafee each scored 13 points for the Panthers and Liz Shover added 10 points. The girls have won 24 in a row and are now 25-1 on the season. They will open up NJSIAA playoff action today at HOME against Penns Grove at 7PM in the PHS gym.
https://www.nj.com/highschoolsports/2020/02/girls-basketball-group-1-rankings-for-feb-27.html
https://www.nj.com/highschoolsports/2020/02/girls-basketball-burlington-county-scholastic-league-rankings-for-feb-27.html
https://www.nj.com/highschoolsports/2020/02/girls-basketball-state-tourney-preview-breaking-down-the-group-1-field.html
The Boys and Girls Winter Track and Field teams competed at the NJSIAA Group 1 State Championships on Saturday. Kaya Robinson placed 7th in the state in the 55 hurdles and Joe Fort placed 10th in the state in Pole Vault event with a jump of 10 feet.
Zack Kahana wrestled on Wednesday at Regionals and unfortunately was beaten by Shawnee's Alex Pfeifer. Zack finished his season with a 15-5 record and a 2nd place finish at the District Tournament. Danica Haines will wrestle this coming weekend in Atlantic City at the NJSIAA State Championships. Good Luck to her!
The Boys Basketball Team lost its last 2 games of the season. On Tuesday, they were beaten by Delran High School, 70-46. Kwinten Ives led the team with 18 points. Diamon Black added 11 points and Joe Smyth had 10 points. On Thursday, the boys finished their season with a tough 54-49 loss against Woodbury. Again, freshman Kwinten Ives, led the team in scoring with 12 and, sophomore Chris McCarron, added 11 points for the Panthers. The Boys finished with a 9-17 record but were 6-4 in BCSL Division play, good enough for 2nd place in the BCSL Independence Division.
Come out and support your Girls Basketball Players tonight as they take on Penns Grove at 7PM in the gym!!!