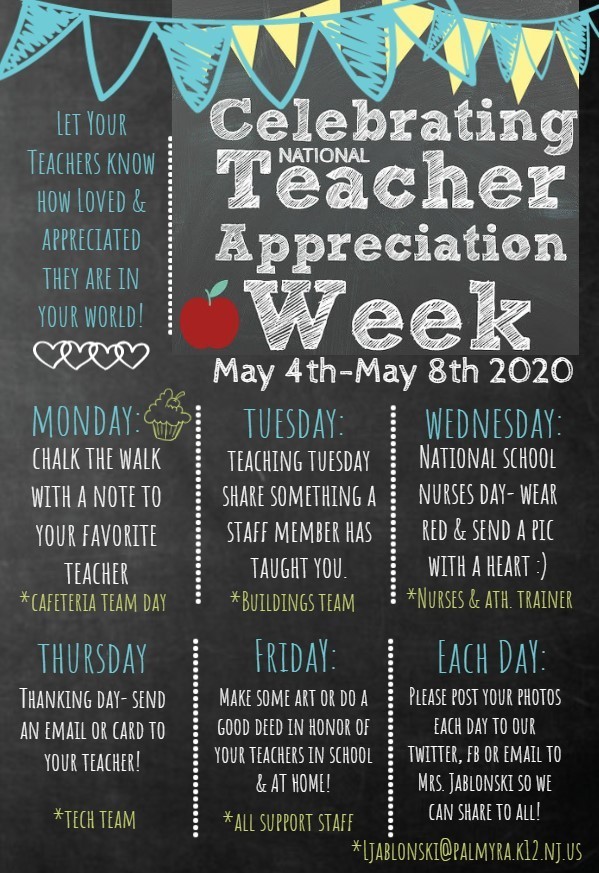 Celebrating our School Staff the Virtual Way!
Palmyra Schools
Sunday, May 03, 2020
Each year, the week before Mother's Day is National Teacher Appreciation Week. This year we are celebrating our school teams VIRTUALLY! Please help us by replying to our social media posts, or by emailing Mrs. J: Ljablonski@palmyra.k12.nj.us with your pics to share. In addition, each day also has a group of unsung heroes that work behind the scenes (many work all year round) that we want to be sure to recognize!
Monday-Chalk the Walk with a note to your favorite teacher/ staffer/ coach! Make a second block for our Cafeteria Team (especially the ones who are still preparing meals during the quarantine)
Tuesday-Teaching Tuesday- Share a message of something special or memorable that a staff member has taught you. Make a second message for an unsung hero from our Buildings & Grounds team!
Wednesday- National School Nurses Day- wear ReD & send a pic with a Heart! This unsung heros day includes our school nurses, phys ed faculty & athletic trainer!
Thursday-Thankful Thursday- Send an email or Card to your Teacher, or a former teacher that made a difference to you! The unsung heroes are the District Tech Team!
Friday-Make some art OR do a good deed in Honor of your teachers (BOTH IN school & AT HOME) The unsung heroes are our school support staff, admin assistants, bus drivers & secretaries
Saturday-a reminder to Dads that Sunday is Mother's Day & your fab school teachers weren't able to work their magic with projects & cards.
Palmyra School District is so grateful for such a tremendous family atmosphere & such amazing work on the part of all staff & all families adapting to this unusual environment! We APPRECIATE YOU! #PalmyraProud #PalmyraStrong #AppreciateATeacher