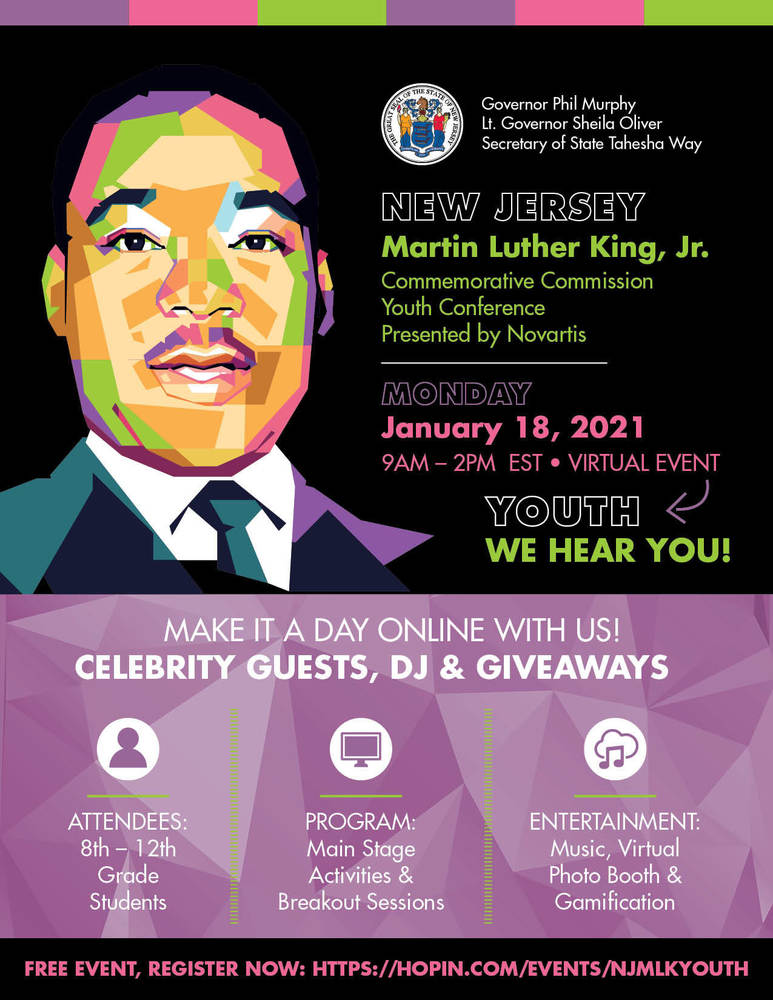 NJ MLK YOUTH event for High School Students
Palmyra Schools
Monday, January 11, 2021
To our PHS+ STUDENTS in grades 8-12:
You are invited by the NJ Secretary of State and the NJ Dr. Martin Luther King Jr. Commemorative Commission for a Virtual Youth Conference, "Youth, We Hear You!" on Monday, January 18, 2021 , 9:00 AM to 2:00 PM EST.
There will be panels, workshops, and networking, and the virtual conference will highlight the life & legacy of Dr. King in these challenging times, through sessions on "Justice Matters," "Health Equity Matters," and "How to Live Your Ideals through Service and Public Policy."
NJ Secretary of State Tahesha Way will lead a session on "Dr. King's Global Impact" with the Consul-General of India and Ambassador from Ghana, nations that Dr. King visited. Young people will serve as Conference Moderators and panelists.
This virtual event is open to students in 8th to 12th grades. Students can register via https://hopin.com/events/njmlkyouth When on the conference page, the registration button will be on the top right hand side. It is a blue button that states "Join Event". Once registered, you will receive reminders and additional information for the event.