ACHIEVE NJ TEACHER EVALUATION
Please feel free to review this revised overview of the Achieve NJ Teacher Evaluation Program (formerly known as the EE4NJ Teacher Evaluation program), the chosen Danielson model, and what it means for the district. In compliance with state regulation to choose a specific teacher evaluation model within the given parameters, Palmyra has chosen the Charlotte Danielson Framework for Teaching. An overview of the framework is available here. In addition, details on the new teacher evaluation program from the NJ DOE are available on the initial EE4NJ page archived here or the new Achieve NJ page available here. The district has effectively worked together to implement the new evaluation model, complete with SGOs, SGPs, and observation of teacher practice using the Danielson rubric.
The Palmyra School District evaluates its teaching staff in accordance with Achieve NJ regulations using the Charlotte Danielson Framework. The Danielson Framework focuses its evaluative efforts on four domains:
Planning and Preparation

The Classroom Environment

Instruction

Professional Responsibilities
Details on the various components of those domains can be seen in the infographic below.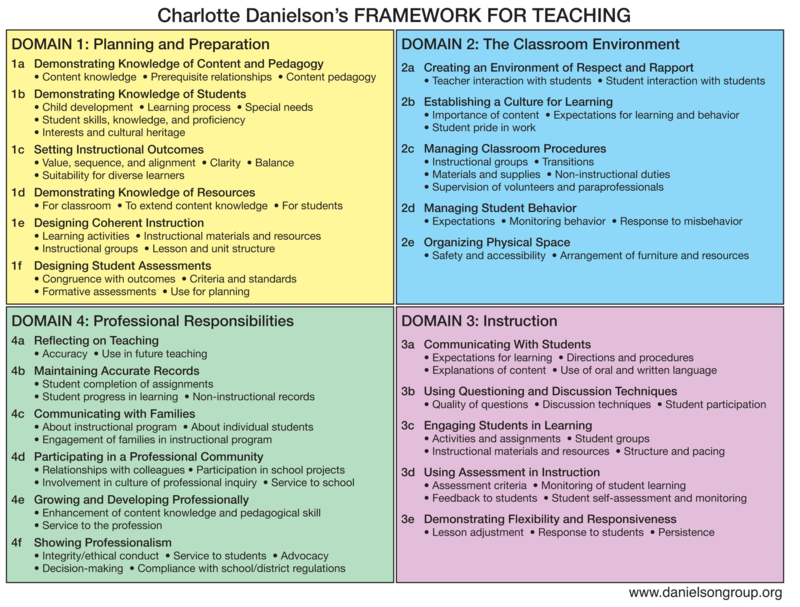 One component of ensuring effective collaboration has been the DEAC (District Evaluation Advisory Committee), which includes representatives from all stakeholder groups and is instrumental in keeping all stakeholders informed throughout the evaluation process. The committee workes closely together to solve problems and make recommendations. Our current DEAC Team consists of:
The Palmyra DEAC convened multiple times since in its first year to develop the foundation of our evaluation program. Agendas and minutes from those early formative discussions can be reviewed below. In the past few years, the DEAC has continued to reflect on and inform observational techniques, revise and update walkthrough processes, and address a myriad of other topics, including mentoring, professional development, etc.
Spring 13:
Fall 13:
Winter 14:
BUILDING LEVEL SCIP TEAMS
In addition to the Palmyra DEAC, each building has developed its own ScIP (School Improvement Panel), designed to ensure, oversee, and support the implementation of the district's evaluation, professional development, and mentoring policies at the school level. The ScIP also guarantees that teachers have a strong voice and significant opportunity to help shape evaluation procedures within each school.
Current ScIP membership includes:
School Improvement Panel (ScIP) – Charles Street School
Karen Adams (Teacher – CSS)

Kristen Holcomb (Teacher-CSS)

Chris Tracey (Principal - CSS)
School Improvement Panel (ScIP) – Palmyra High School
Lisa Sabo (Principal - PHS)

Danielle Willard (Teacher-PHS)

Michele Reisinger (Teacher-PHS)

Jay Toscano (Vice Principal - PHS)