If you knew me, you'd know that....
I am addicted to creating my own costumes. I love making them, painting my face, pushing myself to make each costume better than the last!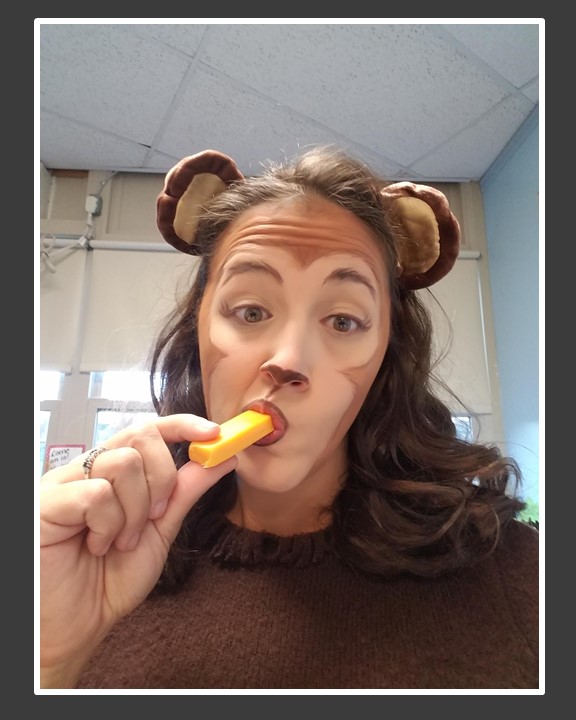 To give you just a glimpse of my background, I have lived and breathed education my entire life. Even as a child, I "played school" with my sister, taking turns being the teacher. Now we are both educational leaders in the NJ Public Education System. I graduated through the Pembertown Township School District (Thank you for teaching me the strength that comes with a diverse community. Go Hornets!) and went to TCNJ (formerly TSC, Go Lions!) to learn how to be a teacher. I double majored in Mathematics and Secondary Education and took my first (and only) teaching job in the district placement where I did my student teaching, Burlington City High School (Thank you for keeping me around and teaching me how to endure. Go Blue Devils!). While teaching Geometry at BCHS, I took classes online through American Intercontinental University (AIU) to receive my masters degree in Curriculum and Instruction as well as my Supervisor Certificate. In the fall of 2012, on the heels of Hurricane Sandy, I made the transition to Palmyra Public Schools (Go Panthers!) where I continue to learn from my peers, the leaders, teachers, parents, and students each day.

I have been with the Palmyra Team, which feels much like a family, for nine years. The amount we have accomplished in those nine years is impressive to say the least, and yet there is still so much to do. I am fortunate to be a part of a small group of people who enjoys their work almost every day, despite the challenges, struggles, unending to do lists, and hard battles. I believe in what we are doing and I believe in the people that fight alongside me each day. As a Hornet, a Lion, a Blue Devil and a Panther, with connections to the collective experiences from all three of those communities, nothing seems impossible anymore. Having hundreds of colleagues with their own wealth of background experience as well, there is nothing we cannot do together. Let's get started! #BetterTogether