-and NOW from our SPORTS DESK - Athletic Director Mike Papenberg reports: Happy Tuesday Everyone! I hope you all had a nice long weekend! Here is a look at how our Winter Athletes performed last week as the season begins to conclude:
The Wrestling Team competed at the NJSIAA District 27 Championships on Saturday. Junior, Trevor Young finished in 3rd place in the 113 pound bracket! He advanced to Regionals which will take place this weekend at Cherry Hill East High School.
The Girls Wrestling Regionals took place on Sunday. Samantha Domask was able to capture the 235 pound NJSIAA Region Championship after beating the #1 seed and #1 ranked wrestler in the state at 235 pounds in the finals. Sam has advanced to the NJSIAA State Championships which will be held this weekend at Phillipsburg High School. Congrats to Sam and Trevor on a BiG wrestling weekend!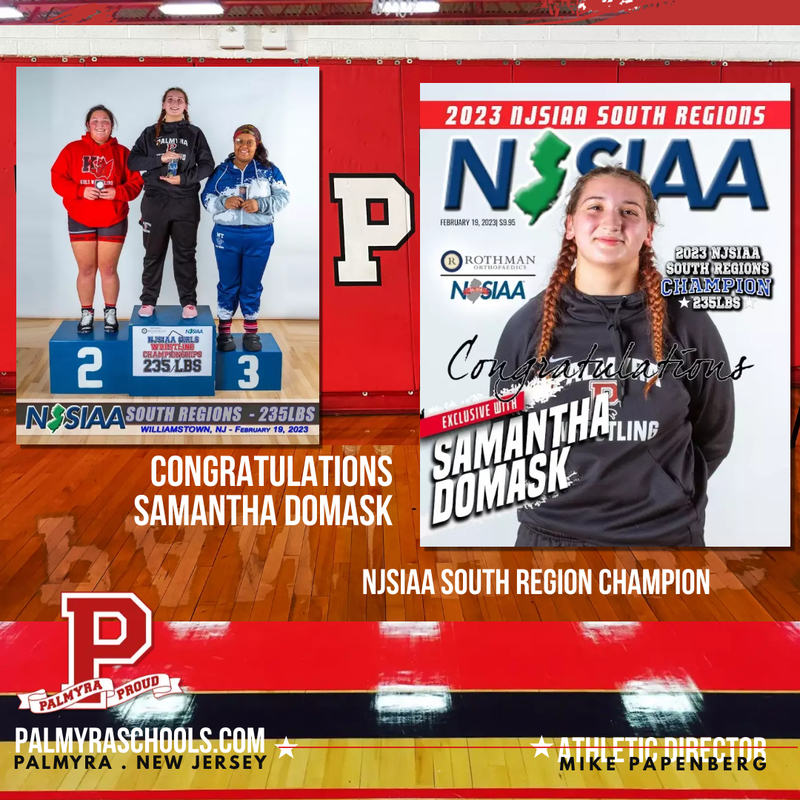 Congratulations to the Boys Winter Track & Field Team which placed 8th at the NJSIAA Group 1 State Finals as a team on Saturday!
The boys 4X400 team of Abdul Iyiola, Joe Russell, Colin Broadbelt and Luke Cannuli placed 16th.
Junior, Abdul Iyiola placed 15th in the Hurdles and finished 3rd overall in the 400, running a personal best.
Junior, Colin Broadbelt placed 9th in the 800 and ran a personal best.
Senior, Joe Russell placed 2nd in the State in the High Jump and 8th in the Pole Vault. In 2 weeks Joe will represent the Panthers at the NJSIAA Meet of Champions held at the Ocean Breeze indoor track in Staten Island, New York.
The Girls Basketball Team hosted Salem High School yesterday in the opening round of the NJSIAA Group 1 South Sectional Tournament and defeated the Rams 50-37. Senior Lauren Gilmore stepped up to lead the offense with 25 points while her sister Amanda scored 12 points and grabbed 10 rebounds. The Lady Panthers advance to host Gateway High School on Wednesday at 5PM here in the PHS Gym. Our Girls are now 17-10 on the season.
The Boys Basketball Team travelled to Audubon High School yesterday for their opening round NJSIAA Group 1 South Sectional Playoff Game and beat the host, Green Wave, 47-44. Kwinten Ives powered the Panthers to the win with 21 points. Jesahi Robinson chipped in 9 points for the Panthers. The boys advanced to play Wildwood in the 2nd round of the NJSIAA Playoffs. They will travel to Wildwood tomorrow for a 6PM tip off. The boys are now 13-13 on the season.
#GOPANTHERS Here is a link to our schedule to come cheer on our amazing teams this week, for more schedules & other information find us on PalmyraSchools.com