-and NOW from our SPORTS DESK - Athletic Director Mike Papenberg reports: Happy Monday Morning Palmyra! It was a historic weekend for the PHS Girls Soccer Team!
Congrats to our Girls Soccer Team who had a heck of a week, culminating in the South Jersey Group 1 Championship on Saturday. This was the 1st NJSIAA Sectional Championship since 2006 for the girls and the program's 2nd overall in school history.
The girls got to the championship with a 1-0 win over Schalick High School on Tuesday. Ellie McCarron was the goal scorer for the Panthers and Maeve O'Connell made 7 saves in goal to post the shutout. The girls played an amazing game on Saturday and pulled away from Audubon High School to win the South Jersey Group 1 Championship 4-1. Julia Ostroff led the offense with 2 goals while Ashley Vernot and Mikayla Mangano each scored once. Maeve O'Connell saved 10 shots including a crucial penalty kick save to keep the Panthers ahead in the 1st half. Our Lady Panthers are now 18-1-2 on the season and will travel to Point Pleasant Beach on Tuesday for the State Semifinals. See info below.
The Football Team completed their season with a 50-26 win over rivals Riverside on Thursday. Senior Kwinten Ives went out in style, scoring 6 touchdowns. Kwinten scored 4 rushing touchdowns, a receiving touchdown and a 95 yard interception return for a touchdown. Senior Damon Bailey scored an 85 yard kick-off return for a touchdown to complete the scoring. The Gridiron Panthers finished their season with a 5-4 record.
In Cross Country, Cadence Anderson competed at the NJSIAA Group 1 State Championships where she finished 39th out of 139 of the top runners in the state. Congrats on a great season!
The Boys Soccer Team won their NJSIAA Second Round Game against arch rivals Riverside on Monday, 3-0. Jase Jennings led the way offensively with 2 goals while John Bilkins added a goal. John Liebe made 10 saves to earn his 10th shutout of the season. The Panthers advanced to play the #1 and eventual sectional champion, Haddon Township High School in the sectional semifinals on Wednesday where their season came to an end. The boys finished the season with a record of 12-5-2.
The PHS Girls Soccer Team will play in the NJSIAA Group 1 State Semifinal against Point Pleasant Beach High School on Tuesday at 2PM. The game will be played at Antrim Elementary School, 401 Niblick St. in Point Pleasant Beach, 08742. You must purchase a ticket ahead of time to attend. Please purchase your tickets through the link: Tickets | NJSIAA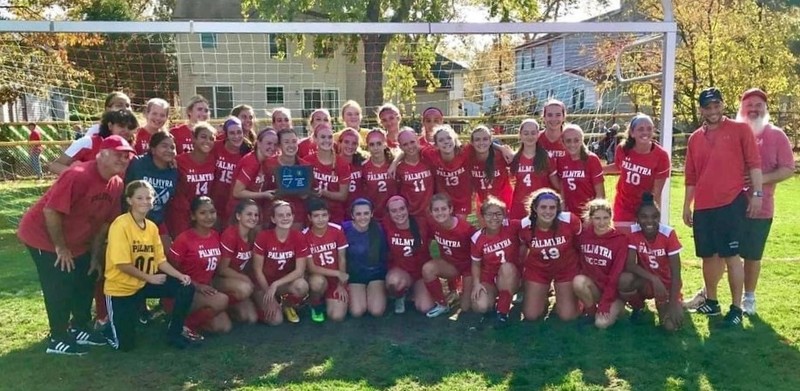 #GOPANTHERS for more schedules & other information find us on PalmyraSchools.com